Start here
select the destination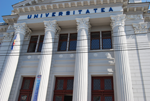 Information about our faculty.
Information about the department faculty and the teachers.

Useful information for students.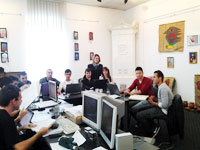 Information about student mobility

Latest News
read on what's happeing at University
Faculty Facts
why FEAA is the best from Romania's SW
53

years of

higher

economic

education

in Craiova
3000 students, the biggest faculty from University of Craiova
32 undergraduates and master study programs, all acredited, 3 in english.
30 cumulative months of internships abroad annually
98% Percent of faculty with Ph.D. or other top degrees
FEAA Events

2020 Candidate's guides
---
---
Având în vedere necesitatea instituirii unor măsuri de prevenire și control a răspândirii coronavirusului și pentru o bună desfășurare a activității secretariatelor Universității din Craiova cu studenții și publicul, vă transmitem următoarele precizări cu privire la organizarea și desfășurarea activității de secretariat la Facultatea de Economie și Administrarea Afacerilor:
Activitatea cu studenții și publicul se va desfășura cu preponderență electronic/telefonic astfel:

Telefonic la nr. 0251 411317
Electronic, la următoarele adrese, în funcție de specializarea la care este înmatriculat studentul:
Adrese mail pentru Ciclul I Licență
Specializare

ZI/

ID

Adresa de mail la care se transmit solicitările

● Economia comerțului, turismului și serviciilor ● Finanțe și bănci

ZI

This email address is being protected from spambots. You need JavaScript enabled to view it.

● Contabilitate și informatica de gestiune ● Informatica economică ● Marketing

ZI

This email address is being protected from spambots. You need JavaScript enabled to view it.

● Management ● Economie și afaceri internaționale ● Statistica și previziune economică

ZI

This email address is being protected from spambots. You need JavaScript enabled to view it.

● Economie și afaceri internaționale (în limba engleză)

ZI

This email address is being protected from spambots. You need JavaScript enabled to view it.

● Contabilitate și informatica de gestiune ● Finanțe și bănci ● Management

ID

This email address is being protected from spambots. You need JavaScript enabled to view it.
Adrese mail pentru Ciclul II Master
| | |
| --- | --- |
| Specializare | Adresa de mail la care se transmit solicitările |
| ● Audit și consultanță în afaceri ● Contabilitate și raportări financiare conforme cu standardele internaționale ● Economie și afaceri europene ● Economie și administrarea afacerilor internaționale în limba engleză ● Managementul organizațiilor publice | This email address is being protected from spambots. You need JavaScript enabled to view it. |
| ● Analiza și evaluarea financiară a organizațiilor ● Managementul afacerilor electronice ● Marketing și comunicare în afaceri ● Managementul resurselor umane | This email address is being protected from spambots. You need JavaScript enabled to view it. |
| ● Finanțe și administrarea afacerilor ● Managementul afacerilor | This email address is being protected from spambots. You need JavaScript enabled to view it. |
Pentru activitățile care nu se pot desfășura electronic și este necesară deplasarea solicitanților (acte de studii în original) aceștia vor fi primiți numai pe bază de programare pe mail sau telefonic. Data și ora programării vor fi respectate, iar accesul în instituție este permis doar solicitantului care are programare (acesta nu va fi însoțit de alte persoane). Pentru a i se permite accesul, acesta va purta obligatoriu mască și va prezenta actul de identitate persoanei special desemnate pentru verificare la intrarea în instituție.
Cererile pentru restanțe se vor depune numai electonic la adresele indicate mai sus, cu minim 3 zile lucrătoare înainte de data la care se solicită susținerea examenului. Cererile vor fi obligatoriu însoțite de documentul care dovedeste plata restanței. Pentru aceste cereri se va utiliza modelul aflat pe site-ul FEAA (DESCĂRCARE Formular 1 – Cerere susținere examen restant).
Plata taxelor se va efectua prin una din următoarele modalități (de preferat virament bancar):
virament bancar în contul Universității din Craiova, ținând cont de specificațiile următoare:
Titular cont: Universitatea din Craiova
C.I.F. 4553380
IBAN: RO48BRDE170SV46910431700 (RON)
Mențiune: ,,plată taxă școlarizare/taxă reînmatriculare/restanta nume și prenume, CNP, facultate";
2. numerar la Casieria Centrala a Universității din Craiova, str.Libertății nr.19

Permisul european de conducere a computerului (ECDL – European Computer Driving Licence) este cel mai răspândit program de certificare a competențelor digitale recunoscut la nivel internaţional în 150 de ţări și numără până în prezent 13 milioane de persoane înregistrate în program.